When Michael and I decided to start a podcast in 2017 we had no expectations.
We didn't know how big our audience would be or what opportunities it would bring or how much fun it would be or any of that stuff. We didn't even know how great our audience would be.
Our email inbox is filled every week with people providing feedback, opinions, TV and film recommendations, books, research reports, and links to useful topics for shows. Then there are the listeners who are into our stupid jokes and make us laugh with comments on Twitter, Instagram or YouTube.
I listen to a lot of podcasts so I understand the sentiment behind this meme:
So when a start-up called Audiograph approached us, Michael and I were curious.1 Joe was interested in building a community for the podcast.
The Audiograph team – Quinn, Josh and Andrew – realized that podcasting was a one-way street and that there should be more ways for podcast hosts to connect with their audiences and for audiences to connect with each other.
It made sense to us so we signed on as advisors and shareholders in the company. We have been working with Audiograph for some time and developing their platform. In late 2021 Quinn and team told us they were exploring a new idea – what if we use NFTs to unlock podcast community features?
Michael has been more involved in NFTs than I am, but I am following the developments in this space. Art is in the eye of the beholder but I don't see the need to invest in digital art. I understand why some people are doing this, but it doesn't interest me much. to each their own.
However, using NFTs to unlock the benefits means a lot to me. It is like a digital key.
Quinn, Josh and Andrew have spent the last few months programming on the blockchain and building an amazing platform for us. The landing page looks awesome: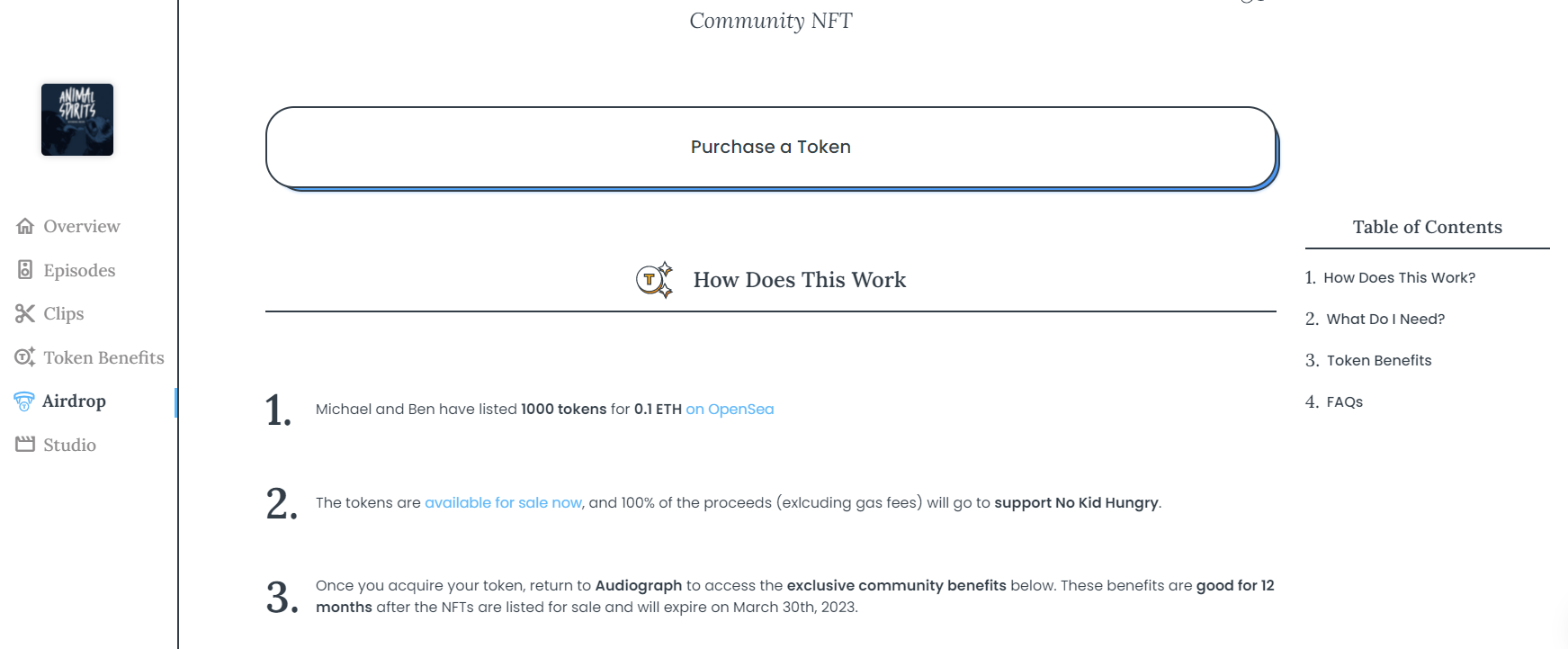 The basic premise is that you buy an NFT and this allows you to unlock the benefits of our digital podcast community. Here we are to encourage people to join: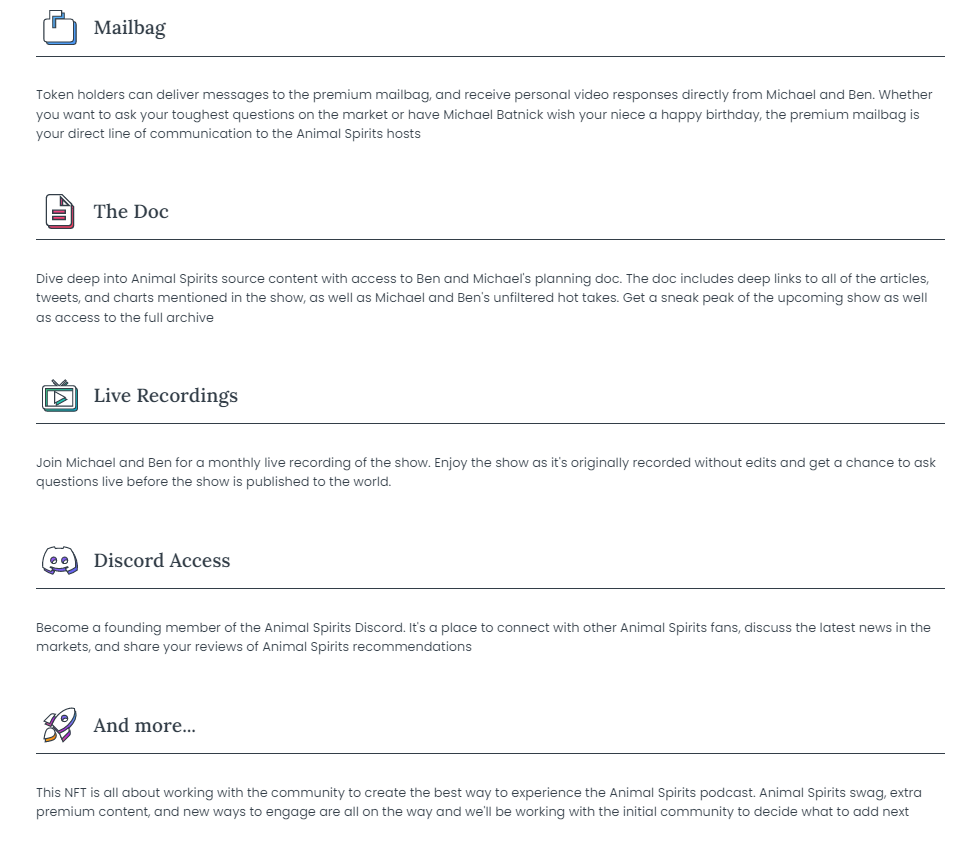 In short, if you buy one of our NFTs you will get access to:
A premium mailbag where you can ask questions to Michael and me.
Access to a collection of Google Docs that we use to produce the show and fill in material to discuss Animal Spirits each week.
Ability to watch a live taping of the podcast each month.
Access to our Animal Spirits Discord channel to chat with us and other listeners who own NFTs.
And we are not selling these NFTs as any kind of money grab. We made that clear at the very beginning of this journey. We wanted to do something good with this money so we are giving it our all. We are not earning a single penny on these transactions and neither do we have audiographs.
We will donate all proceeds to charity. No Kid Hungry is an organization that strives to end childhood hunger in America. This is straight from their website:
As per the latest estimates, 13 million children in the United States Live in "food insecure" homes. This phrase may sound mild, but it means that those families do not have enough food for every member of the family to lead a healthy life.
This problem is only going to get worse as the cost of food rises with high inflation. We couldn't be happier to partner with them. In fact, they also accept crypto so this money will go directly to them.
The cost of NFT is 0.1 ETH.
We think this is a steal based on what you will get from this community.
Check out our podcast with Quinn from last weekend to learn more about our journey with Audiograph, how this project came together and some more info on NFTs:
Animal Spirits NXT Drop
Here is a link to all the information you need to find NFTs as well as the benefits you get:
Animal Spirits Community NFT
If you are not a crypto native, fear not, Audiograph can walk you through the process. We already have a lot of people who have said that this is the first NFT they have ever bought and it was a breeze. If you have any questions or problems, reach out to:
Contact Audiograph for support Twitter gold brawl
And finally, thanks to No Kid Hungry for working with us on this project. It is a worthy cause if you have the means to help those in need.
,
1Audiograph has been producing these excellent transcripts of our podcasts for several months now.