Instagram has an impressive 1 billion monthly active users—that's millions of people logging in each day. It's clearly a great place to connect with potential customers, particularly younger consumers (recent data shows nearly 62% of Instagram users are aged 18-34).
While there are many ways to promote your brand on the platform, including running ads and sponsoring posts, one of the most effective (and sometimes free) ways to grow your audience is by hosting an Instagram takeover.
What is an Instagram takeover?
A unique marketing tactic for your business, an Instagram takeover is when you partner with someone to take over your account for a short time, whether it's one day or several. The host announces themselves to your audience and proceeds to post updates throughout the specified time. This host of the Instagram takeover can be an employee, an influencer, a business or an industry expert.
Takeovers help increase engagement and reach on Instagram. They give your audience a unique perspective of your business. They can also help elevate your brand, showcasing key products or differentiators to existing customers and new audiences.
Sometimes takeovers are more about elevating other people than simply promoting your brand. A great example of this is when the American Society of Anesthesiologists (ASA) had their March Resident Scholar, Dr. Katherine Mills, take over their account for a day.
Dr. Mills posted to the ASA account throughout the day, highlighting meetings with ASA leadership and politicians during a trip to Washington, DC advocating for the physician anesthesiologists and safe care for patients.
How do Instagram takeovers work?
With an Instagram takeover, you're handing over the proverbial keys of your account over to a guest for a specified time, whether it's for one day or a few days. That person (or business) posts their own content on your account. If this makes you nervous, don't worry—we'll explain how takeovers work (including how you can protect yourself from risks) and provide some tips on how to make sure your takeover is successful.
How do businesses benefit from Instagram takeovers?
Instagram takeovers are a modern way to generate buzz about your brand or products. They provide many benefits to businesses, including the opportunity to collaborate with popular influencers or content creators who are relevant to your audience.
Here are some of our favorite benefits of Instagram takeovers:
The ability to reach a new audience
When an influencer with a large following takes over your account, you have the potential to reach new audiences. Influencers will notify their followers of the takeover by posting an Instagram Story or post to head over to your account to follow along. Takeovers help build your followers on Instagram, as some of the guest host's followers will likely start following and interacting with you as a result. This benefit can last long after the initial takeover has ended.
The opportunity to build trust and credibility
Partnering with a guest host helps establish trust with their followers. This partnership gives your company credibility with a new audience who may not know about you or your business. It lends social proof since people trust the recommendations of others. When an influencer promotes your brand on their own page—and their followers see that content—you're more likely to earn the trust of those individuals.
Engaging with an employee or industry insider gives you credibility with your own followers, particularly when that person is an expert in their field.
Increased engagement with your posts and account
Instagram takeovers provide a compelling way to encourage more engagement on your posts. If you're collaborating with someone who has an active, loyal following, you can expect to see more Instagram likes, comments and shares on your content. This increased engagement can also help increase your reach because Instagram's algorithm favors posts with high engagement.
A behind-the-scenes look at your business
Takeovers on Instagram give your followers a glimpse under the hood of your business. They help showcase an authentic side of your business and can highlight your company culture, products or services.
For example, let's say you own a bakery. You could do an Instagram takeover with one of your pastry chefs and have them show your followers how they make some of your most popular desserts.
More traffic and sales for you
By increasing your brand's reach and engagement, Instagram takeovers can also lead to more traffic and sales for your business. If you're promoting a new product or service, an influencer takeover can help get the word out.
Make it easy for your followers to navigate to your website by coordinating your and your guest host's Instagram link in bio tools. You can also use hashtags to increase exposure and discovery (more on that below).
How to run an effective Instagram takeover in 7 steps
Take some time to plan your strategy, identify your ideal guest hosts who align with your brand and values, and promote your event will help you get the most out of your Instagram takeover. The following steps are focused on helping you plan the perfect takeover.
1. Establish your takeover goals and KPIs
Before you start looking for guest hosts, it's important to establish your goals for the takeover. What do you want to achieve (e.g., brand awareness, follower growth, improved post engagement, customer leads, etc.)?
Make sure to establish some KPIs (key performance indicators) so you can measure the takeover campaign's performance. These could include:
The number of new followers you gain during the takeover
The amount of engagement on your posts
The number of website clicks or sales you generate
The goals should be clear to everyone involved in the takeover, so posts can be tailored to help you achieve them.
2. Choose a takeover host
When you're planning your takeover, identify a host that makes sense for your brand. They should have a similar target audience and be respected in their field. Consider the following when selecting your host:
Influencers: Instagram influencers often, but not always, have a lot of followers. Their followers view them as experts in their niche. Collaborating with an influencer puts your brand in front of their loyal audience. Influencer posts, paired with hashtags, can also foster engagement and interest.
Customers: Giving a customer the keys to your account provides social proof and is a good way to show off your products. The customer's voice is a powerful one. It fosters a feeling of community and demonstrates that your business values customer input.
Employees: Employee takeovers can make brands seem more relatable. A takeover gives your employees some recognition and reveals the human side of your business. This type of employee advocacy provides a unique look into your business.
Industry leaders and experts: Consider doing a takeover with an industry luminary, someone who offers valuable knowledge about your niche. Experts can provide content to your followers while reinforcing your company's leadership.
Businesses: Partnering with another business—particularly one with a firmly established customer base—can elevate your brand in your industry and introduce your business or products to a new audience.
3. Select a type of takeover
There's more than one way to execute a successful Instagram takeover. It's important to be creative, but also to align your takeover to your specific goals. Here are three common approaches to consider:
Instagram post takeovers: This type of takeover generally involves having your guest host take over your company's Instagram account for a fixed period of time and post content related to your industry, product or service to your feed. It's a straightforward approach to a takeover that can be very effective in promoting your brand.
Instagram Story takeovers: A Story takeover involves having your guest host share a series of images or videos to your company's Instagram Stories. These behind-the-scenes, action-oriented strategies generate engaging content while giving your followers a sneak peek of something specific to your business.
Live video takeovers: Live video takeovers generate excitement and build anticipation for an event or announcement (e.g., a new product launch.) You can also use live video to host Q&As, announcements or interviews.
4. Outline Instagram takeover guidelines
Once you've chosen your guest host and type of takeover, it's time to create some guidelines. This will help ensure the guest's posts are aligned with your brand voice and goals. Your guidelines should answer the following questions:
What type of content will be included in the takeover?
How long will the takeover last?
Will the content be pre-planned or spontaneous?
Who will approve the content before it's posted?
What are the requirements for posting content?
Don't be too restrictive. Set your expectations, but allow the guest host enough freedom to be creative and use their own voice.
5. Set permissions to your account
Now it's time to give your guest host access to your account. One way to do this is to provide the password to the guest host (just make sure this is someone you can trust).
If the guest host is an influencer, they'll likely have their own Instagram Business Account. Connect their account with your
Business Account through the Instagram settings. This will allow them to post content to your feed as if they were posting from their own account.
You can also give guest hosts access to your Instagram account by adding them as a contributor to your Meta Business Manager. Meta provides detailed instructions for how to do this via their Help Center.
Alternatively, you can streamline permissions management by implementing an approval process with a social media management platform like Sprout Social. With a message approval workflow, you can collaborate effectively with partners and guests on tone and content.
6. Choose a branded hashtag
You can promote your takeover ahead of time using Instagram hashtags. Any branded hashtags associated with the takeover should be easy to remember, specific and relevant.
Branded hashtags help your followers keep track of the takeover and see related posts in one place. You can also promote the hashtag to encourage your followers to use it when posting about the takeover to increase exposure and discovery.
7. Finalize the details and launch
The final step involves a few key details including choosing when to post. We've put together some best practices about when to post on social media to give you a starting point. However, you should also review your account analytics to see what times have historically been best for you.
This should also be the time to determine if you want a full account or semi-account takeover:
Full account takeover: The guest host has complete control of your account for an agreed-upon time frame (e.g., a day, 6 hours, a weekend).
Semi-account takeover: The guest host can post to your feed, but you maintain some control over other aspects of the account. For example, you might approve all content before it's posted or schedule posts ahead of time. Social media management platforms like Sprout make it easy to plan and schedule Instagram posts.
You're ready to launch, but there's one more thing…
Promoting your Instagram takeover
With your takeover ready to launch, it's time to start promoting it on Instagram and beyond. This will help ensure your followers are aware of the Instagram takeover and get them excited about the content to come.
Before the day: Tease the takeover on Instagram and your other social media channels. Send an email to your subscribers. Request the guest host post about the takeover to their followers and community. You can also announce the takeover on your website.
On the day of: Post a photo or video on your Instagram feed or Story to announce the start of the takeover and introduce the host. Make sure to use the takeover hashtag. The guest host can repost this content to their followers as well.
After the day: Recap the takeover on your website and share highlights on social media. You can even create an Instagram Stories Highlight reel with the best posts from the takeover (your guest host will likely want to do this too).
And, of course, be sure to thank your host.
Measure your takeover's success
After the dust settles, review your takeover's performance and evaluate metrics against the established KPIs. Take some time to understand what worked and what didn't so you can optimize your takeover strategy for next time. Here are a few key metrics to measure:
Number of new followers: Keep track of how many new followers you gained during the takeover period and compare this number to your average rate of growth.
Post engagement: Review your post engagement (Likes, comments, shares) to see if it increased versus what's typical for your account.
Hashtag usage and mentions: Review how often your hashtag was used and see if you can spot any patterns. Also, check for any new mentions of your brand.
Website traffic: Check your website analytics to see if traffic increased or traffic patterns changed.
Website conversions/signups: Did you see a spike in sales or an increase in conversion (e.g., newsletter signups)?
A social media management tool like Sprout can simplify campaign measurement associated with an Instagram takeover. Sprout provides dashboard-style Instagram analytics that let you easily see post performance, hashtag usage, audience engagement and more.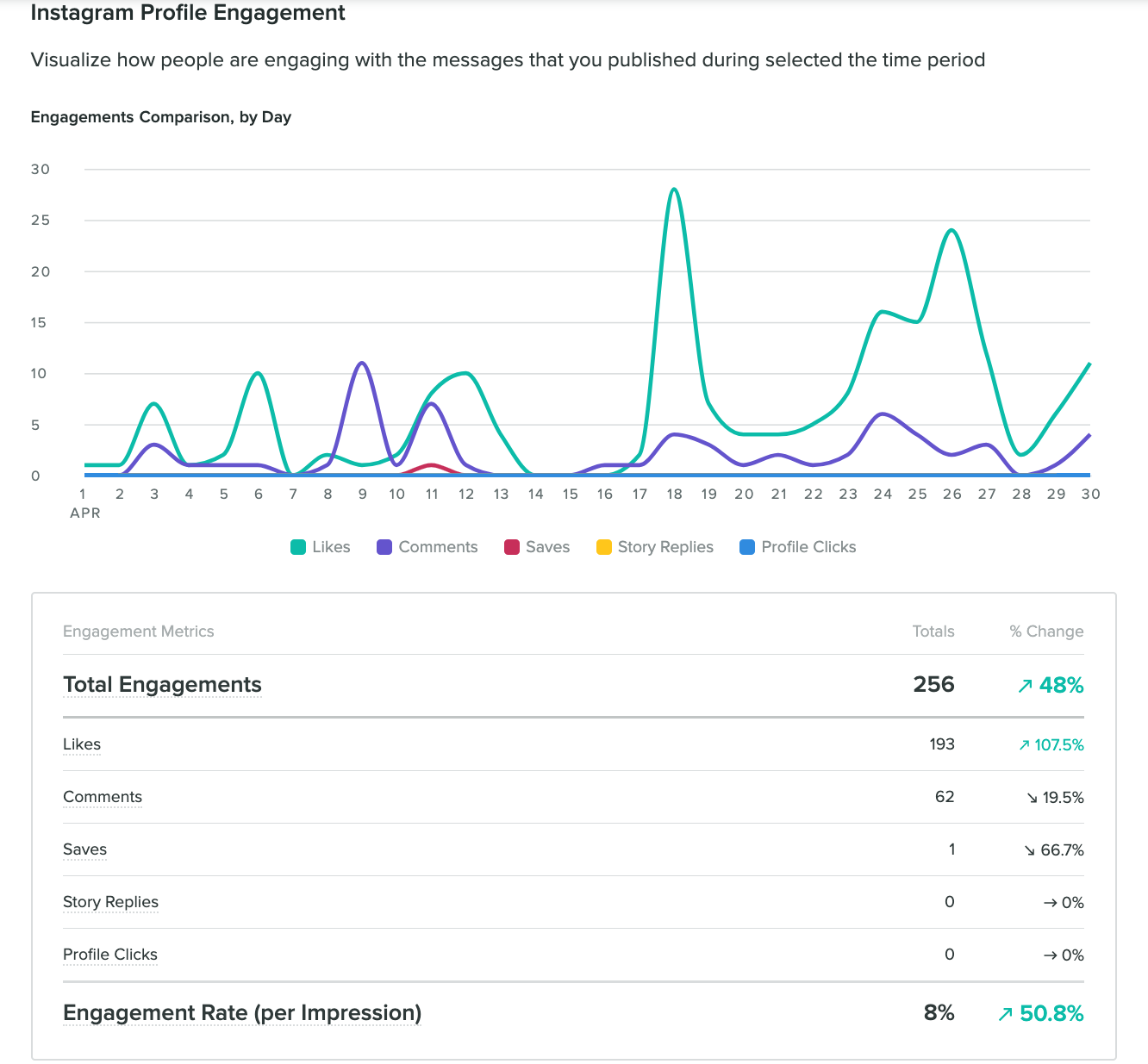 Examples of Instagram takeovers
Now that you know how to execute an Instagram takeover, check out some examples from brands that have done it well.
Samantha Pollino's Hamilton Musical takeover
In May 2019, Samantha Pollino hosted an Instagram Story takeover on the official Hamilton Musical Instagram account. Pollino played Woman 2 in the Phillip Company production of the show. She did the takeover when the show was in Dallas, posting Story videos throughout the day of behind-the-scenes footage. She used Story elements, adding hashtags, Instagram handles, stickers and music to her posts. She also engaged with followers—for example, inviting them to ask questions which she promised to answer on Twitter.
Pollino has just under 21,000 followers on Instagram, so this is a great example of how an insider with a modest following can produce some engaging and unique content.
Penn Admissions student takeover
In 2019, the University of Pennsylvania Admissions department gave one of their student ambassador's the keys to their Instagram Stories for a day. She recorded her day on campus as a UPenn student: walking to class with friends, enjoying a meal in the cafeteria and attending class. She even recorded one of her professors writing on a chalkboard.
The takeover provides a brief, but impactful, glimpse into the life of a student at Penn, complete with some compelling footage of the campus, classrooms and student spaces.
Jessica Capshaw's 300th episode takeover for Grey's Anatomy
Many may know Jessica Capshaw as Dr. Arizona Roberts in the long-running ABC show Grey's Anatomy. Capshaw took over the show's official Instagram Stories to celebrate the milestone 300th episode. This gave the show's fans and followers a unique glimpse into the show's production.
Capshaw's posts included cameos from fellow cast members, a brief spotlight of the hair and makeup trailer, shots of the cast and crew gathering in a dining area and many more insider treats.
Launch and manage Instagram takeovers with Sprout
Instagram takeovers provide a powerful way for businesses to mix up their account's content, increase engagement and reach new audiences. Sprout is the perfect tool to help you plan, execute and measure your Instagram takeover. With Sprout, you can easily see post performance, hashtag usage and audience engagement.
Download our Instagram for Brands guide and learn how to build a comprehensive high-impact Instagram marketing strategy.
The post How to host an Instagram takeover in 7 steps appeared first on Sprout Social.