Beginner Guide
YouTube SEO: Strategies to optimize your videos for search
Trying to wrap your head around YouTube SEO?
We get it. Getting your channel off the ground is a struggle.
By learning about YouTube marketing and SEO, you can make your videos more searchable and expand your channels' reach.
Recent YouTube statistics tell us the platform is currently the second-largest search engine in the world. Meanwhile, video consumption is at an all-time high.
And despite popular belief, learning YouTube SEO doesn't require a bunch of technical know-how or spammy tactics.
In this article, you'll learn what YouTube SEO is and how it works. We'll also introduce you to top YouTube SEO strategies and tools to help you succeed on the platform.
Table of contents
What is YouTube SEO?
How does YouTube SEO work?
YouTube SEO strategies
Essential YouTube SEO tools
What is YouTube SEO?
YouTube SEO is the process of optimizing your videos and channel to rank higher in YouTube's search results. It involves using a variety of strategies and techniques to attract more organic traffic and put your content in front of your target audience.
How does YouTube SEO work?
SEO for YouTube works a bit differently from regular SEO.
While search engines can't exactly watch video content, they can crawl the text components of those videos. These include closed captions, transcripts, titles, descriptions and tags.
Incorporating relevant keywords and phrases into these text components is an essential part of any YouTube SEO strategy.
Additionally, optimizing these elements on top of creating high-quality, engaging content helps you improve viewer experience, which directly contributes to your video's popularity.
If your content is a hit with your audience, YouTube's algorithm is more likely to bring it to the top of search results.
YouTube SEO strategies
In this section, we'll look at several SEO strategies for YouTube to help you get your videos to the top of search results.
1. Perform keyword research
First things first: digging into video topics that people are looking for.
By default, YouTube does a pretty solid job of cluing creators into what viewers want. Simply type a keyword or term into YouTube's search bar and you'll see a slew of keywords from actual viewers.
The purpose of keyword research isn't necessarily to copycat the keywords that are already out there. Instead, you can use these terms to explore new potential topics and see what other keyword opportunities are out there.
For example, let's say you're a fashion YouTuber interested in making a video about distressed jeans. Simply by looking at the top results, we can see that peripheral terms like "DIY" and "denim" pop up alongside our primary keyword.
Digging into other related terms, you can narrow down the niche of your video and find a unique angle beyond just "distressed jeans."
For example, you might talk about a specific tool or technique ("scissors," "knife," "sandpaper") or perhaps a certain style of distressed jeans ("big holes"). Niching down your videos means that you're targeting a more defined audience and are less likely to try to compete against more established videos and channels.
Another place to conduct video SEO research is through Google. That's because YouTube videos rank in Google results, meaning that videos that pop up in a search are more than likely already optimized for SEO. Take note of what these sorts of videos do in terms of their titles and thumbnails (but more on that later).
Finally, you can also conduct keyword research via Google's Keyword Planner tool. Although not related to video SEO per se, the added bonus of using Google is that you can uncover real-world search terms that people are actually using.
The purpose of keyword research is both to brainstorm ideas and figure out what viewers want. Including keywords and related terms throughout your content is a low-hanging way to boost your rankings versus videos that totally ignore YouTube SEO.
2. Add hashtags to your videos
Hashtags are a great way to get your videos more exposure. You can add relevant hashtags to your video titles and/or descriptions. Just like on other social media platforms, users can click on or search for hashtags on YouTube to view content related to specific topics.
Be careful with the number of hashtags you use. Don't use too many or your content may come across as spammy. Stick to 2-3 of the most relevant terms, such as your company name, brand name, and main topic or keyword.
3. Create a playlist
Playlists help keep viewers on your channel for longer, which can improve your overall watch time and potentially lead to a higher ranking in search results.
Organizing your content into playlists on YouTube also makes it easier for viewers to find and watch related videos.
Finally, playlists help YouTube understand the theme and content of your channel, which can help improve your search visibility on the platform.
To optimize your playlists for SEO, you can use descriptive titles that include relevant keywords, add appropriate tags and make regular updates.
4. Optimize your video titles and descriptions
An enticing title and description can make or break your video. They are also great spots to highlight your keyword.
How to optimize YouTube video titles
Conventional wisdom says that ~75 characters is the sweet spot for titles, so you need to choose your words wisely.
Below are some examples of title formats that stick with our best practices of headline writing tips and allow you to seamlessly integrate your keyword ideas:
Pose a question ("Why…" or "What is…")
Make a listicle ("Top 5…" or "5 Reasons Why…")
How-tos and tutorials ("How to…")
Compare and contrast ("Ranking the 5…" or "Best to Worst…")
Channels like DFB Guide almost exclusively follow the formats above and their view-count speaks for itself.
Although these aren't the only types of titles you're restricted to, they're arguably the safest options for both piquing people's curiosity and ease-of-use for keywords.
As a side note, try to avoid writing clickbait headlines–audiences are increasingly familiar with and fatigued by these tactics, meaning they may reduce trust in your content.
How to optimize YouTube video descriptions
Descriptions are definitely a big deal when it comes to YouTube SEO.
With 5,000 characters to work with, it might be tempting to stuff keywords here.
However, that's obviously not what this space is for (and keyword stuffing could land you in trouble).
There are plenty of ways to naturally integrate keywords into your YouTube descriptions minus any sort of spam. Also, your descriptions are crucial for funneling traffic from YouTube to your website, landing pages and social media channels.
In short, don't let this space go to waste. Here's a combination of elements to include in your description:
A brief summary of your video which integrates your primary keyword
Links to other relevant, keyword-specific videos on your channel
Timestamps on your video which integrate relevant search terms
Links to your website, social channels or other promotions
Let's look at some examples of solid descriptions that stick within the best practices of YouTube SEO without being totally spammy.
This description for Beardbrand integrates multiple keywords throughout, including links to other videos which translates into more engagement and longer watch-times (all good for video SEO).
This description for Elgato manages to target keywords for their specific products, a smart move if you're looking to tie the ROI of your YouTube channel to purchases on-site.
This straightforward example from Food Wishes proves that including keywords in your descriptions doesn't have to be complicated (note that this video ranks #1 for "Baklava recipe").
Here's an awesome example from JHS Pedals which manages to integrate specific product-related keywords through timestamps. As a side note, including timestamps in your videos is great for engagement as it keeps your viewers from bouncing by allowing them to zero in on the most relevant parts of your videos.
Finally, this example from SEMrush does all of the above with a keyword rich-description, timestamps and links to useful resources on their site.
5. Make the most of YouTube tags
Tags are a subtle aspect of YouTube SEO that your audience more than likely will never see, but they can help improve your visibility and ranking.
But again, that doesn't mean you should go stuffing tons of tags in your videos.
The concept behind YouTube tags is simple: by tagging your videos with descriptive terms, you're helping YouTube understand the content of your videos and recommend what's relevant to viewers (think: "DIY jean distressing" or "distressed jeans scissors").
Although YouTube themselves don't specify how many YouTube tags are considered "optimal," five or so seems to be fair game for most channels.
If you're interested in example tags or want to see what tags your competitors are using, figuring both out is simple. Simply go to a video, view the page source (CTRL-U) and then search (CTRL-F) "keywords" to uncover the tags.
6. Create compelling thumbnails
Although thumbnails aren't directly tied to video SEO, they're crucial for grabbing the attention of viewers and therefore scoring clicks.
As a rule of thumb (ha!), here are some best practices of YouTube thumbnails for most channels:
Striking colors (either via text or background)
Bold text which highlights the video's title (or a benefit)
A person or some sort of action
Here are some examples from Upright Fitness:
Thumbnails are important for establishing your brand's identity and giving your channel a much-needed sense of professionalism. Even if you're not a design expert, you can create consistent, eye-popping thumbnails with the help of the following template tools:
7. Promote your content across networks
Let's talk about some less technical YouTube SEO tips for boosting video engagement both on the platform and off of it.
Increasing clicks, views and subscriptions to your channel are all signals to the YouTube algorithm that can improve your overall visibility, and should be a goal of your video SEO strategy.
Asking for engagement in-video
When you're trying to get more engagement, anything you can do to get a reaction from your viewers is a plus. Some tips for doing so include:
Asking for comments, "likes" and subscribers (don't be shy about this but also don't be obnoxious)
Include some sort of call-to-action in your video (pose a question, for example)
Add a call-to-action or question in the first line of your video description
You don't have to beg for likes or comments, by the way. Just include a passing mention at the beginning or end or include an in-video prompt that doesn't interrupt your viewers. Here's an example from Emergency Awesome:
Sharing and promoting your content beyond YouTube
Pointing viewers to your YouTube content means consistent promotion across as many channels as possible. This might include:
Embedding videos on-site or within blog posts
Promoting your video content to your email subscribers
Sharing your videos via social media
The last point is a big one. Video content performs well on social media, which is exactly why businesses make a point to share their latest videos time and time again across Twitter, Facebook, LinkedIn and/or Pinterest.
How to Increase Domain Rating (Website Authority) by @samsgoh

In this video, you'll learn the three core factors that'll improve your website's link authority in a meaningful way.https://t.co/BzKjaptBMZ

— Ahrefs (@ahrefs) July 1, 2020
You can use tools like Sprout's social media publishing platform to queue up and promote your videos as soon as they're ready to go live. Additionally, Sprout's built-in YouTube publishing allows you to push content directly to YouTube without having to leave our app.
8. Leverage analytics to find what's working
The last piece of YouTube SEO is analyzing your results.
Through your YouTube analytics, you can assess your content's performance to understand what's doing well and what isn't in terms of SEO.
For example, your YouTube dashboard can clue you in on the following:
Which keywords are you ranking for?
Which types of videos perform well? (think: how-tos versus listicles)
How long are your top-performing videos?
Which videos result in the most traffic and off-platform engagement?
If you want to know where your YouTube SEO strategy should go, you need to know where you've been. Based on your data, you can explore new topics and keywords which brings us full-circle.
Essential YouTube SEO tools
Sprout Social
Sprout Social is a social media management platform that offers a range of tools for managing and analyzing social media activity, including YouTube management.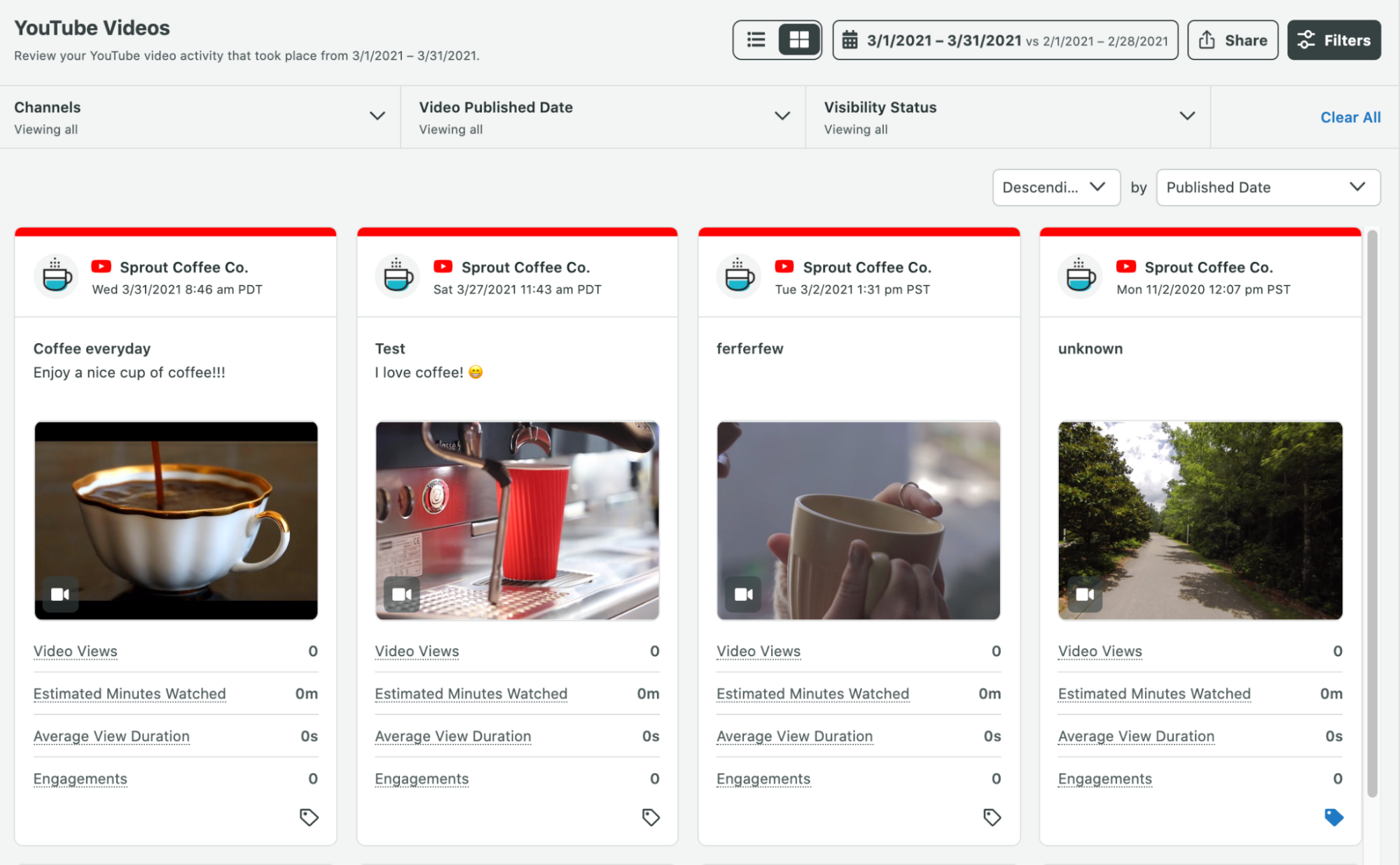 You can optimize your YouTube channels and videos for search with in-depth analytics, keyword and tag suggestions, and the ability to track performance and engagement.
Sprout Social also offers features for scheduling and publishing YouTube content, as well as the ability to collaborate with team members and clients.
YouTube autocomplete
YouTube autocomplete is the platform's built-in tool that helps you identify top keywords related to your content. Simply type something in the platform's search bar and view a list of suggested search terms.
This gives you valuable insight into popular topics and content types on the platform. Use this to tailor our own content to better meet the needs and interests of your audience.
Ahrefs Keyword Research
Ahrefs is a powerful keyword research tool that can help you optimize YouTube videos for search. With Ahrefs, you can see the search volume and competition level for different keywords, as well as the keywords your competitors are ranking for.
This information can help you identify the most relevant and valuable keywords to target in your video titles, descriptions and tags. Additionally, Ahrefs provides data on the types of queries that are driving traffic to your channel, as well as the specific keywords that are driving the most views to your videos.
TubeBuddy
TubeBuddy is another powerful tool that you can use to optimize your channel and videos for improved visibility and performance.
Some of the key features of TubeBuddy include the ability to see what tags and keywords your competitors are using, the ability to bulk edit video titles and tags, and the ability to see detailed analytics about the performance of your videos.
AnswerThePublic
AnswerThePublic is a tool that allows you to enter a keyword or phrase and generates a list of questions that people are asking about that topic online. It's a useful resource for understanding the interests, needs and concerns of your YouTube audience.
Ready to put your YouTube SEO knowledge into action?
SEO for YouTube doesn't have to be rocket science.
By sticking to the tips and principles above, you're already way ahead of the curve when it comes to optimizing your videos for more reach.
And remember: video content is among the most-shared on social media. Find out how to use video to reach and engage your audience with current data and innovative tactics in our free Social Media Toolkit.
The post YouTube SEO: Strategies to optimize your videos for search appeared first on Sprout Social.